Top Lists
The Suicide Squad's Favorite Songs
"Suicide Squad" has quickly become one of the most controversial films of 2016. They're a quirky group of characters and opinion lines have been drawn in the sand between critics and fans everywhere. However, the important question about all of this is clearly: what would your favorite crazy characters' favorite songs be? Well, I'm here with some answers. Without further ado, here are the Suicide Squad's favorite songs… probably.
---
Captain Boomerang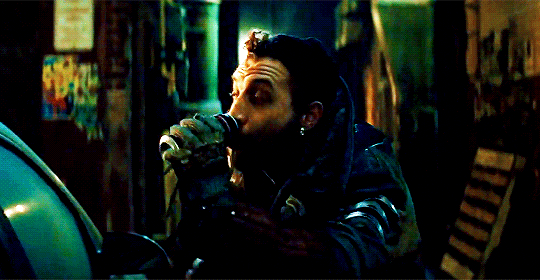 "The Unicorn Song" – Agnes (Elsie Fisher) from "Despicable Me"
Lyrics: "Unicorns I love them / Unicorns I love them"
That's literally the whole song, with an awesome beat. Which is exactly why he would love it.
"Take the Money and Run" – Steve Miller Band
Lyrics: "Go on take the money and run"
While his love for unicorns (he would clearly be the aficionado that no one could measure up to) could never be beat, we can't ignore the fact that the man does love himself a good robbery.
Harley Quinn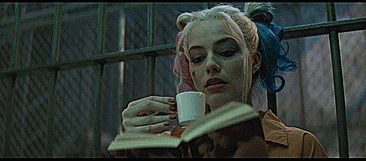 "Trouble" – Halsey
Lyrics: "Let's cause a little trouble / Oh, you make me feel so weak / I bet you kiss your knuckles / Right before they touch my cheek"
"Love the way you Lie" – Eminem Ft. Rihanna
Lyrics: "Just gonna stand there and watch me burn / But that's alright, because I like the way it hurts"
Harley Quinn is really a very complex character, even if she doesn't look like much of one on the surface. While she's bound to have some girl power anthems on her playlist, Harley's favorites would definitely relate in every way to her very non-goal-like relationship with her Puddin'.
Deadshot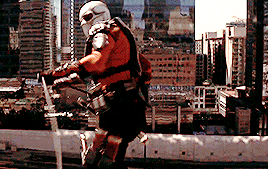 "My Girl" – The Temptations
Lyrics: "What can make me feel this way? / My girl (my girl, my girl)"
"Pumped Up Kicks" – Foster The People
Lyrics: "You better run, better run, outrun my gun"
Deadshot is a very bad man who is so good at doing bad things. One thing that is above all for him though is his love for his daughter, which is exactly why "My Girl," is definitely his jam. But you definitely won't catch Deadshot jamming out to "I Shot the Sheriff," because, well, he's the kind of guy who would have definitely shot the deputy as well.
El Diablo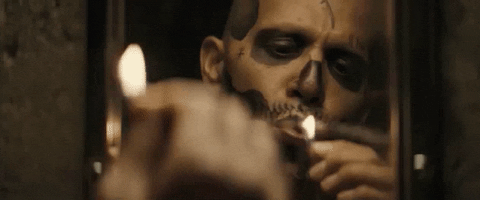 "Beautiful Pain" – Eminem Ft. Sia
Lyrics: "I'm standing in the flames / It's a beautiful kind of pain"
"Guts Over Fear" – Eminem Ft. Sia
Lyrics: "It's too late to start over / This is the only thing I, thing I know"
I absolutely loved Jay Hernandez as El Diablo. He played a tortured character perfectly. And a tortured character – who, well, I won't say anything else in case you haven't seen the movie or know nothing about the character – deserves a beautiful song like this.
Katana
"Vengeance" – Zach Hemsey
Lyrics: "Before I die alone / Let me have vengeance / Before my time has gone / I will have vengeance"
"The Unforgiven" – Metallica
Lyrics: "Never free / Never me / So I dub thee Un-forgiven"
Katana is a hard character. She doesn't say much, and technically she's not an actual member, so it's hard to figure out what might be her favorite song. We do know that she's fiercely loyal to her husband and out for revenge. Ergo she wants a ton of vengeance (and she gets the satisfaction of that, considering her sword keeps the souls of the people she kills) and dubs a lot of people as unforgiven (with said sword).
Killer Croc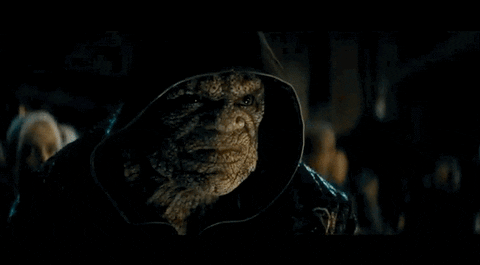 "Crocodile Rock" – Elton John
Lyrics: "Well Crocodile Rocking is something shocking / When your feet just can't keep still / I never knew me a better time and I guess I never will"
"Beautiful" – Christina Aguilera
Lyrics: "I am beautiful / No matter what they say / Words can't bring me down"
"Crocodile Rock," because, obviously. Now on to the important one. Say it with me everyone: Killer. Croc. Is. Beautiful. You go, Killer Croc. You're beautiful. We could all learn a lot from you.
Slipknot
OK, while I love Adam Beach, and technically he is a member… honestly, I'm really not about to give a serial rapist a favorite song. He doesn't get one (even if he's just labeled that in a rumored deleted scene list). Cause, ya know, out of all of these crazy murderers I hated that part about this guy the most… Sorry, not sorry.
Rick Flagg
"Hero of War" – Rise Against
Lyrics: "A hero of war / Yeah that's what I'll be"
"Stuck in the Middle with You" – Stealers Wheel
Lyrics: "Clowns to the left of me, jokers to the right, / Here I am, stuck in the middle with you"
Poor Rick Flagg. He's just a soldier that's kind of stuck with these people because of his girlfriend. He didn't ask for any of this, he's just an inwardly tortured guy (probably) that wants to help June. His real favorite song is probably "Love is a Battlefield," cause for him, it seriously is.
Bonus:
Joker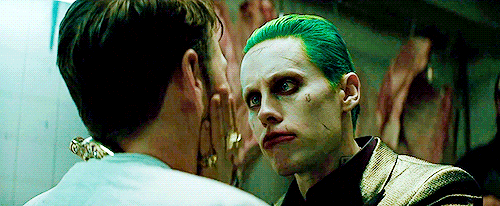 "Jingle Bells" – "Christmas with the Joker" episode of "Batman: The Animated Series"
Lyrics: "The Batmobile lost a wheel and the Joker got away!"
We all know he's not technically a member. Let's be real, he probably doesn't have a favorite song unless it's a love song for Batman. If he had one, it'd definitely be this one that he sings himself about Batman; or it could be Snoop Dogg's "Batman and Robin." Really, you never can tell with this guy – but a song about being crazy would really be a little too predictably cliche for Joker's taste.
Enchantress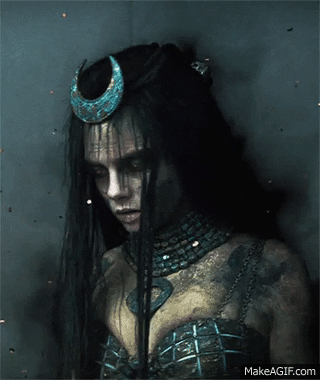 "Witchy Woman" – Eagles
Lyrics: "Sparks fly from her finger tips / Echoed voices in the night / She's a restless spirit on an endless flight"
She's a crazy old witch… but she still probably has a favorite song, right? Poor June Moone. I bet she's tired of hearing this one over and over again.
Featured Image via Movie Pilot
---
Supervillains, they're just like the rest of us when it comes to music, right? What do you think the Suicide Squad's favorite songs would be? To listen to these songs and other great artists check out the Trebel App!
Ashleigh is a junior communication major, student of the Joel A. Katz Music and Entertainment Business Program and writer and social media director for the Odyssey at Kennesaw State University. When she's not listening to an eclectic variety of music, you can find her reading different book series at the same time or binge watching Netflix.