Featured Image via drakeofficial.com
Top Lists
5 Reasons We're Obsessed with Drake
By
|
Canadian rapper Drake goes by many names such as: Aubrey Graham, Drizzy, October's Very Own and Champagne Papi. But whatever you want to call him, our opinion remains the same. We are obsessed with Drake. His career took off after his mixtape So Far Gone was released in 2009, and since then Drake has been a cornerstone of today's hip-hop culture. So why can't we get enough of the Canadian rapper ? Here's 5 Reason's that Trebel Music is Obsessed with Drake.
1. We Remember His Degrassi Days
It's refreshing nowadays to see a legitimate artist arise out of their "child-star" days. The first time the world knew of Aubrey Graham was as Jimmy Brooks on Canadian teen drama, Degrassi. His character was known for getting shot in the back in an episode, and being forced to rely on a wheelchair ever since. Drake could have been easily written off by the rap community as just some teenage actor. But, through hard work and talent, Drake proved himself to be a force to be reckoned with when his mixtape So Far Gone gained major popularity in 2009. So while we love the successful rapper Drake has become, we will always have a soft spot for Jimmy Brooks too.
Gif courtesy of giphy.com
2. He's Versatile
Drake can do much more than the average rapper. He can produce some hard, brag-heavy raps such as "Energy", and he can sound just as legitmate singing on borderline pop tunes such as "Hotline Bling". Drake's talent is wide-ranging, and he appeals to many audiences because of that. There's a Drake song for every possible mood you could be in. You can pregame to Drake's music, workout to Drake's music, and even wallow in post-breakup sadness to Drake's music . Hey, Drake said it best himself, "So cry if you need to."
3. He Does Great Collaborations
When you see that a song features Drake, you know it's going to be good. At the same time, Drake brings on huge features on his own albums as well. Drake frequently partners up with big-time artists such as, Lil Wayne, Nicki Minaj, and Rihanna . His most recent mixtape, What a Time to Be Alive, was a collaboration with Atlanta rapper Future. The mixtape debuted at #1 on the Billboard 200. Drake is also featured on Rihanna's #1 single "Work". We know that Drake is great by himself, but he's just as spectacular when he works with others.
4. He Stands His Ground
Earlier in 2015, the Twitter world was taken by storm when Philadelphia rapper, Meek Mill, called out Drake for not writing his own material. Drake didn't take too lightly to this accusation from Meek. Drake released a diss track titled "Back to Back", which had lyrics referencing the Twitter beef. Not only did Drake respond to Meek Mill, but the track was nominated for "Best Rap Performance" at The GRAMMY's. Drake followed up again in 2016 with another song referencing the dispute titled "Summer Sixteen", which is the first track off Drake's highly anticipated album, Views From the 6. The point is, don't mess with Drake.
5. He Makes Hits
The amount of hits in Drake's discography probably couldn't be counted on two hands. Since 2009, Drake has been coming out with mega-hits that aren't limited to hip-hop radio. He succeeds in the Top-40 market as well. Drake's genre-crossing abilities has helped his music soar to the top of the charts. There really hasn't been a period time in the past seven years where he hasn't recently come out with a hit track, or at least been featured on one. This is a testament to his likability, his variety, and his artistry.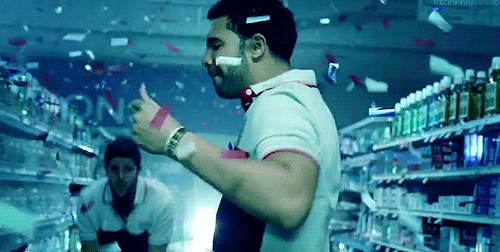 Gif courtesy of giphy.com
No one can deny the success Drake has created for himself in his career thus far. To listen offline to even more awesome music, like Drake's newest album, Views, download the Trebel app here.