Top Lists
5 Reasons We're Obsessed with Andra Day
By
|
Featured image: Jennifer Logue
The new queen has arrived, and her name is Andra Day. The two time Grammy nominee has had a phenomenal break out year since the release of Cheers to the Fall in August of 2015. Currently on tour, it seems like Day is constantly on the move. Yet she still has time to keep her fans posted on just about everything she has going on. There are so many reasons why we're obsessed with her – here are five of them!
---
1. Her style is pretty magical.
Day is absolutely stunning in every way. Her style will take you back to a retro era with an updated twist. Day combines different styles from the '40s and '50s yet makes them her own. From that fabulous cat eye to those red lips – There's no denying we're all super envious of it all and wish we could pull it off on the daily.
2. Her sound combines many different genres.
Combining rock, pop and soul, Day can reach so many different music lovers. Her sound might be the most original thing many have heard since Amy Winehouse blew us all out of the water. In fact, to many, she sounds a lot like a hybrid between Winehouse and Rihanna. It's like when they make their perfect woman in the movie "Weird Science." Fans have been blessed with an artist with the best attributes from many different genres but warped into into Day's own uniqueness. And we didn't even have to engineer her ourselves.
3. She is generous and humble.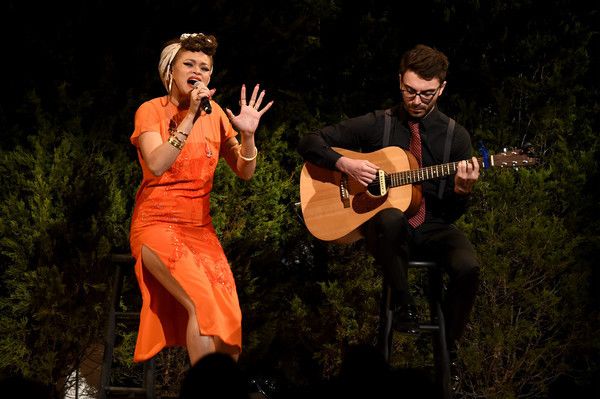 Day is so generous with her resources and her time. During her performance in Philadelphia she offered her own band to the opening act so that they could get more exposure. During that same show, her own keyboardist performed his own song. Day left the sage so that he could have his own moment. To say that she is a thoughful person is really an understatement.
4. Her lyrics will touch your soul.
Day is a very touching artist. It took hearing one song to turn me into a fan and I'm sure it's the same for others. The inspiration that her lyrics will give you can't even be estimated. Day was a writer for every single song on Cheers to the Fall and the passion within them will give you some serious feels.
5. She puts on an intense live performance.
Speaking of passion, Day is absolutely electrifying live. She will have you feeling so many emotions all at once. You haven't lived until you see Day on stage and in her element.
Bonus:
6. Her vibe is so  empowering.
When Day performed her cover of Kendrick Lamar's "No Make Up," in Philadelphia at Ardmore Music Hall, it was a very powerful set. Day took off her make up while on stage, which is something I doubt you'll see any other artist do. She told the audience that she feels just as beautiful "with or without make up." It's a testament to her openness.
---
Day is currently on tour and will continue her trek until Bonnaroo in July. Follow her on Twitter, Facebook, Instagram and YouTube. To listen to Andra Day and other great artists check out the Trebel App!
What are some of the reasons you're obsessed with Andra Day? Comment below!